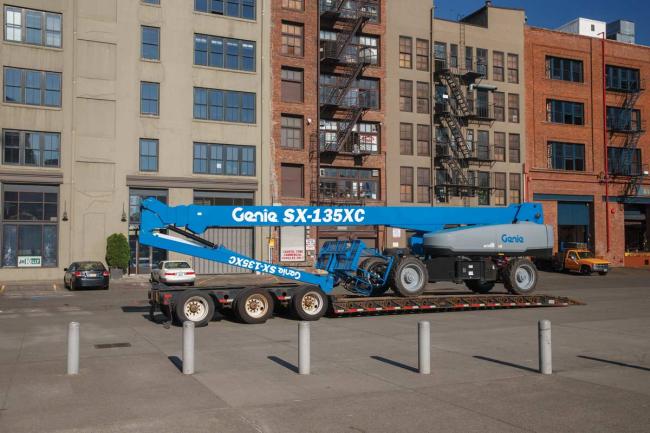 Genie

SX-135 XC
Boom Lifts
The Genie® SX-135 XC™ telescopic boom delivers industry-leading outreach and capacity through the full working envelope for incredible operational versatility and accessibility. It boasts 660 lb/1,000 lb (300/454 kg)** dual platform capacity with a smooth range of motion envelope to lift heavy loads in the most challenging jobsite applications.
Overview
Industry-leading 90 ft (27.43 m) of maximum outreach
Increased range of motion with 18 - 30 ft (5.48 – 9.14 m) Telescoping Jib-Extend™ and 125° of jib articulation
Load sense technology for accurate load weighing and zero-load field calibration
Extended reach out and down capability with 19 ft 1 8n (5.99 m) of reach below grade
** Maximum outreach zone / maximum capacity zone.
Specifications
| | |
| --- | --- |
| Below Ground Reach: | 19 ft 8 in | 6.00 m |
| Machine Width and Length: | 12 ft 11 in / 64 ft 10 in | 3.94 m / 19.76 m |
| Max Horizontal Reach: | 90 ft | 27.43 m |
| Max Working Height: | 141 ft | 43.15 m |
| Platform Capacity: | 660 lb Unrestricted, 1000 lb Restricted | 300 kg Unrestricted, 454 kg Restricted |
Links
Options
Engine Options
Diesel intake air pre-cleaner
Cold weather recirc kit: 5W-40 Synthetic engine oil, oil pan heater, battery heater, control board heater, platform manifold recirculation, and hydraulic tank heater
Lift/Turntable Options
Hostile environment kit: cylinder bellows, boom wiper seals,
LCD heater, platform manifold recirculation, and hydraulic tank heater
Specialty hydraulic oil (138 gal - cold weather, fire resistant, or biodegradable)
Platforms
6 ft. dual entry or 8 ft. tri entry platform with ½ height mesh inserts and side swing gate
6 ft. dual entry platform with side swing gate
Platform Options
AC generator, 110V/60Hz or 220V/50Hz, 3000W, hydraulically driven
Air line to platform
Light package: 2 platform mounted work lights
Lockable platform control box cover
Thumb rocker steering
Welder package, 7.5kW generator - Select Lincoln or Miller
Welder package, 12kW generator - Select Lincoln or Miller
Welder ready package: 7.5kW generator
Welder ready package: 12kW generator
Traveling fall arrest anchor system: requires 6ft platform
Traveling fall arrest anchor system: requires 8ft platform
Specifications

Specifications

| | |
| --- | --- |
| Below Ground Reach: | 19 ft 8 in | 6.00 m |
| Machine Width and Length: | 12 ft 11 in / 64 ft 10 in | 3.94 m / 19.76 m |
| Max Horizontal Reach: | 90 ft | 27.43 m |
| Max Working Height: | 141 ft | 43.15 m |
| Platform Capacity: | 660 lb Unrestricted, 1000 lb Restricted | 300 kg Unrestricted, 454 kg Restricted |

Details

Options

Engine Options

Diesel intake air pre-cleaner
Cold weather recirc kit: 5W-40 Synthetic engine oil, oil pan heater, battery heater, control board heater, platform manifold recirculation, and hydraulic tank heater

Lift/Turntable Options

Hostile environment kit: cylinder bellows, boom wiper seals,
LCD heater, platform manifold recirculation, and hydraulic tank heater
Specialty hydraulic oil (138 gal - cold weather, fire resistant, or biodegradable)

Platforms

6 ft. dual entry or 8 ft. tri entry platform with ½ height mesh inserts and side swing gate
6 ft. dual entry platform with side swing gate

Platform Options

AC generator, 110V/60Hz or 220V/50Hz, 3000W, hydraulically driven
Air line to platform
Light package: 2 platform mounted work lights
Lockable platform control box cover
Thumb rocker steering
Welder package, 7.5kW generator - Select Lincoln or Miller
Welder package, 12kW generator - Select Lincoln or Miller
Welder ready package: 7.5kW generator
Welder ready package: 12kW generator
Traveling fall arrest anchor system: requires 6ft platform
Traveling fall arrest anchor system: requires 8ft platform