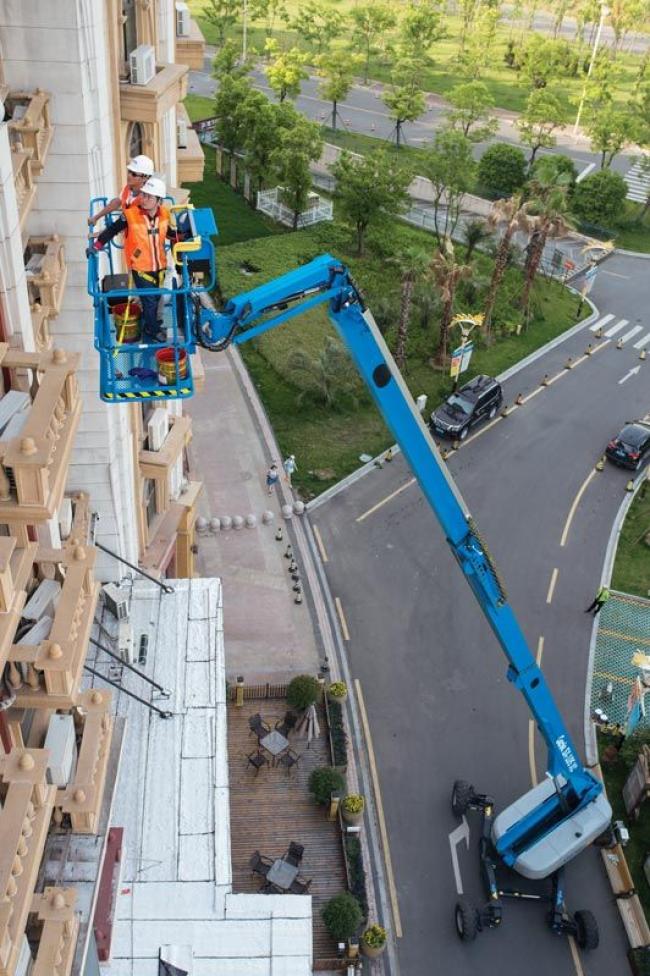 Genie

SX-105 XC
Boom Lifts
The Genie® SX™-105 XC™ telescopic boom is engineered to work in more applications that require higher capacities. With industry-leading dual lift capacity — 660-lb (300 kg)/1,000-lb (454 kg) — and a smooth operating envelope, this Genie XC boom is perfect fit for heavy lifting in construction, bridge inspections and maintenance, stadiums and sports arenas, oil and gas, industrial, telecommunications and utility applications.
Overview
Mini Genie XChassis™ design for compact transportation and work in confined areas
Load sense technology for accurate load weighing and zero-load field calibration
Extended reach out and down capability with 8 ft 1 in (2.69 m) of reach below grade
** Maximum outreach zone / maximum capacity zone.
Specifications
| | |
| --- | --- |
| Below Ground Reach: | 8 ft 10 in | 2.69 m |
| Machine Width and Length: | 12 ft 11 in / 46 ft 9 in | 3.94 m / 14.25 m |
| Max Horizontal Reach: | 80 ft | 24.38 m |
| Max Working Height: | 111 ft | 34 m |
| Platform Capacity: | 660 lb Unrestricted, 1000 lb Restricted | 300 kg Unrestricted / 454 kg Restricted |
Options
Engine Options
Diesel intake air pre-cleaner
Cold weather kit: 5W-40 synthetic engine oil, oil pan heater, battery heater, and hydraulic tank heater
Lift/Turntable Options
Hostile environment kit: Cylinder bellows, boom wiper seals, air pre-cleaner, and ring gear guard
Platforms
6 ft. dual entry or 8 ft. tri entry platform with ½ height mesh inserts and side swing gate
6 ft. dual entry platform with side swing gate
Platform Options
Panel cradle package
Platform auxiliary top rail
Thumb rocker steering
Welder - Select Lincoln or Miller
Traveling fall arrest anchor system: requires 6ft platform
Traveling fall arrest anchor system: requires 8ft platform
Specifications

Specifications

| | |
| --- | --- |
| Below Ground Reach: | 8 ft 10 in | 2.69 m |
| Machine Width and Length: | 12 ft 11 in / 46 ft 9 in | 3.94 m / 14.25 m |
| Max Horizontal Reach: | 80 ft | 24.38 m |
| Max Working Height: | 111 ft | 34 m |
| Platform Capacity: | 660 lb Unrestricted, 1000 lb Restricted | 300 kg Unrestricted / 454 kg Restricted |

Details

Options

Engine Options

Diesel intake air pre-cleaner
Cold weather kit: 5W-40 synthetic engine oil, oil pan heater, battery heater, and hydraulic tank heater

Lift/Turntable Options

Hostile environment kit: Cylinder bellows, boom wiper seals, air pre-cleaner, and ring gear guard

Platforms

6 ft. dual entry or 8 ft. tri entry platform with ½ height mesh inserts and side swing gate
6 ft. dual entry platform with side swing gate

Platform Options

Panel cradle package
Platform auxiliary top rail
Thumb rocker steering
Welder - Select Lincoln or Miller
Traveling fall arrest anchor system: requires 6ft platform
Traveling fall arrest anchor system: requires 8ft platform