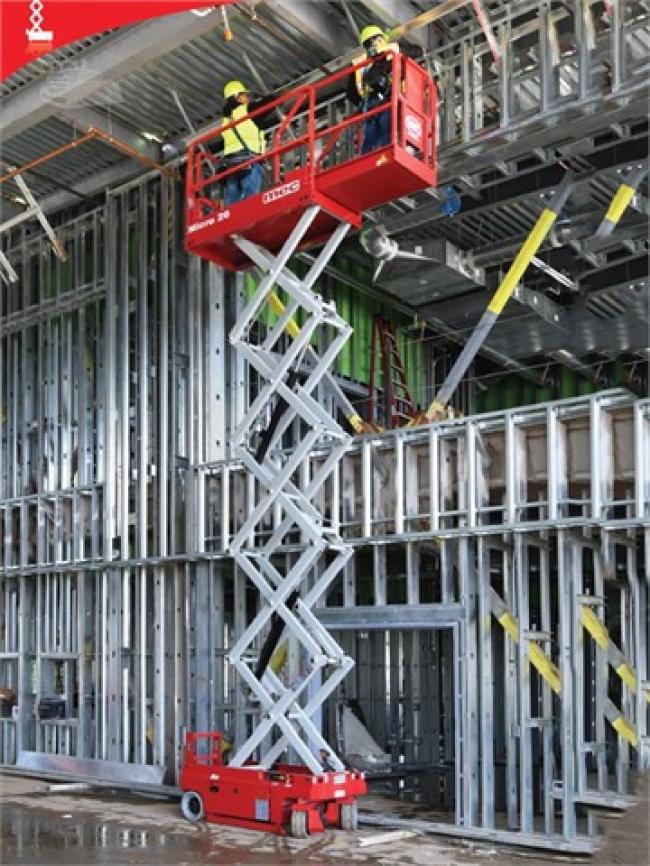 MEC

MICRO 26
Scissor Lifts
MICRO 26 – MICRO SLIM ELECTRIC SCISSOR LIFT

● Compact Size Almost 2 ft. (60 cm) Shorter Than Other 26 ft. (7.6m) Lifts
● 36 in. (90 cm) Roll-Out Deck Extension with Incremental Lock Positions
● Direct Electric Drive for Extended Duty Cycle, Smoother Control and Fewer Leak Points
● Spacious 2-Person Platform with 500 lb. (226 kg) Capacity
● Driveable at Full Height
● Fully Proportional Lift and Drive Controls

STANDARD FEATURES:
WORK AREA
● Roll Out Deck Extension with Incremental Locking Positions
● Standard Full Height Swing Gate
● Lanyard Attachments (2)

PERFORMANCE
● Direct Electric Drive
● Fully Proportional Drive and Lift Controls
● Up To 25% Gradeability

POWER
● 24v DC, 240 Ah Battery Pack
● Battery Charge Indicator
● Serviceability
● Lubrication-Free Scissor Bearings
● Easy Maintenance Access to Mechanical and Electrical Components in
● Swing Out Trays
● Parking Brake Release Switch for Towing

SAFETY
● Lift Control Orientation Designed to Avoid Entrapment
● Dedicated Compartments Protect Electrical and Hydraulic Components
● Emergency Shut-Off at Platform and Lower Controls
● Non-Skid Metal Deck Construction
● Descent Alarm
● Drive Speed Interlock
● Multi-Axis Tilt Sensor
● Multiple Disk Brakes
● Scissor Maintenance Lock
● Automatic Parking Brakes
● Automatic Pothole Protection

OTHER FEATURES
● Removable Upper Controls
● Voltage-Compensating Fully
● Automatic Battery Charger
● Hour Meter
● Machine Tie Downs
● Non-Marking Tires
● All-Motion Alarm
● Fork Lift Pockets
● Flashing Beacon

Similar models may be shown in addition to the featured model. Equipment may be shown with options. Specifications are subject to change without prior notice.

Specifications
| | |
| --- | --- |
| Chassis Width: | 31.9 in | .81 m |
| Controls: | Proportional |
| Drive Speed (Elevated): | .5 mph | .8 km/h |
| Drive Speed (Stowed): | 2.5 mph | 4 km/h |
| Gradeability: | 25% 14 degrees |
| Ground Clearance (Stowed): | 3 in | 7.62 cm |
| Guardrail Height: | 43.5 in | 1.1 m |
| Length-Stowed (Ladder Removed): | 68 in | 1.73 m |
| Length-Stowed (Overall): | 74 in | 1.88 m |
| Personnel Capacity: | 2 |
| Platform Height: | 26 ft. | 7.62 m |
| Platform Length (Extended): | 103.5 in | 2.63 m |
| Platform Length (Retracted): | 68 in | 1.73 m |
| Platform Width: | 29.1 in | .74 m |
| Power Source: | 24 v DC, 240 Ah Battery Pack |
| Raise/Lower Speed: | 30/25 sec |
| Roll-Out Deck Capacity: | 250 lbs | 113 kg |
| Roll-Out Deck Length: | 35.5 in | .9 m |
| Stowed Height (Platform Floor): | 47 in | 1.2 m |
| Stowed Height (Rails Folded): | 78.75 in | 2 m |
| Stowed Height (Top Guardrail): | 90.3 ft. | 2.3 m |
| Tires: | 12 in. x 5 in | 30 cm x 12.5 cm |
| Toeboard Height: | 6 in | 0.15m |
| Total Lift Capacity: | 500 lbs. | 227 kg |
| Turning Radius (Inside): | 6 in. | 15 cm |
| Weight**: | 4190 lbs. | 1900 kg |
| Wheelbase: | 55 in | 1.4 m |
| Wind Rating: | Indoor Only |
| Working Height*: | 32 ft. | 9.45 m |
Specifications

Specifications

| | |
| --- | --- |
| Chassis Width: | 31.9 in | .81 m |
| Controls: | Proportional |
| Drive Speed (Elevated): | .5 mph | .8 km/h |
| Drive Speed (Stowed): | 2.5 mph | 4 km/h |
| Gradeability: | 25% 14 degrees |
| Ground Clearance (Stowed): | 3 in | 7.62 cm |
| Guardrail Height: | 43.5 in | 1.1 m |
| Length-Stowed (Ladder Removed): | 68 in | 1.73 m |
| Length-Stowed (Overall): | 74 in | 1.88 m |
| Personnel Capacity: | 2 |
| Platform Height: | 26 ft. | 7.62 m |
| Platform Length (Extended): | 103.5 in | 2.63 m |
| Platform Length (Retracted): | 68 in | 1.73 m |
| Platform Width: | 29.1 in | .74 m |
| Power Source: | 24 v DC, 240 Ah Battery Pack |
| Raise/Lower Speed: | 30/25 sec |
| Roll-Out Deck Capacity: | 250 lbs | 113 kg |
| Roll-Out Deck Length: | 35.5 in | .9 m |
| Stowed Height (Platform Floor): | 47 in | 1.2 m |
| Stowed Height (Rails Folded): | 78.75 in | 2 m |
| Stowed Height (Top Guardrail): | 90.3 ft. | 2.3 m |
| Tires: | 12 in. x 5 in | 30 cm x 12.5 cm |
| Toeboard Height: | 6 in | 0.15m |
| Total Lift Capacity: | 500 lbs. | 227 kg |
| Turning Radius (Inside): | 6 in. | 15 cm |
| Weight**: | 4190 lbs. | 1900 kg |
| Wheelbase: | 55 in | 1.4 m |
| Wind Rating: | Indoor Only |
| Working Height*: | 32 ft. | 9.45 m |
Other Scissor Lifts Models