HP915WCU-T4F Air Compressor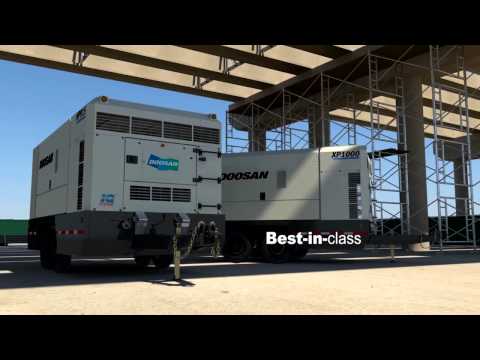 Doosan

HP915WCU-T4F Air Compressor
Air Compressor
The HP915 air compressor is the all new addition to Doosan Portable Power's T4F lineup. The HP915 is the most innovative portable air compressor in the world and features an enclosure that has been redesigned from the ground up to further enhance productivity and reliability. This hard-working, heavy-duty air compressor offers the best servicing capabilities in the industry, maximizing uptime in general construction, mining and abrasive blasting operations.
Features
Operation is made easy and efficient with the Doosan ViewPort control panel, which provides more detail and preloaded resources than any other control panel in the market. An intuitive joystick control provides access to 15 operational parameters, an easy access to relevant manuals, machine maintenance schedule, and spare parts information. A Wi-Fi interface allows operators to access real-time data on laptops, tablets, or smartphones.

Available as an option is the patented IQ System® for cleaner air. Models with the IQ System feature an onboard aftercooler with 20 degrees approach, coalescing dual filtration system and an exclusive, zero-discharge condensate removal system - all of which work together to protect compressors from contaminants to increase compressor productivity.

The HP915's newly designed enclosure has resulted in the most accessible air compressor ever created, assuring that maintenance is completed safely and efficiently. Safe and simple access to all service components - from coolers to filters - is made possible by panels located on all sides of the machine. Located on each side of the HP915 are two access doors, a pneumatic lift door and a drop-down door, which provide total service access to the interior compartment. A rear panel door on the canopy simplifies heat exchanger cleaning, while rear steps provide easy access to the radiator for engine coolant refills. A double-door design at the front of the air compressor protects and provides easy access to the operator control system. Efficient maintenance on the HP195 air compressor is further improved by the models' central drain system. Centralized tubing and valve system drains allow operators to easily drain fluids from the radiator and oil and fuel tanks to a central location, without having to crawl under the machine. A ladder at the front of the machine provides access to the enclosure roof for exterior maintenance needs.

 

The HP915WCU is more compact than previous models, having a 12% reduction in length- totaling 226 inches. With a smaller footprint, the HP915 air compressor not only creates more space on the rental yard and jobsite, but also is also easy to transport and maneuver. Built to excel in rugged conditions, the air compressor includes a heavy-gauge steel enclosure, heavy-duty tandem-axle running gear for easy towing, and construction-grade pedestal jack stand.
Specifications
| | |
| --- | --- |
| Air Discharge outlet Quantity: | 1 |
| Air Discharge outlet size - in (mm): | 2-inch NPT (50.8) |
| Bhp @ rated speed (kW): | 305 (227.5) |
| Displacement - cu in (L): | 543 (8.9) |
| Electrical - Voltage/Battery Qty: | 24/(2) 4D, 1000 CCA |
| Emissions Tier Level: | Tier 4 Final (T4F) |
| Free-Air Delivery - cfm (m³/min): | 915 (25.9) |
| Fuel Tank Capacity - gal (L): | 128 (485) |
| Height - in (mm): | 97.9 (2482) |
| Height - in (mm): | 91.4 (2322) |
| Hours of operation @ Full Load: | 8,5 |
| Idle speed - rpm: | 1200 |
| Length - in (mm): | 171 (4343) |
| Length - in (mm): | 226.6 (5748) |
| Make/model: | Cummins/QSL9 |
| Number of Cylinders: | 6 |
| Pressure range - psig (bar): | 80 - 175 (5.5 - 12.1) |
| Rated operating Pressure - psig (bar): | 150 (10.3) |
| Rated speed - rpm: | 1800 |
| Shipping Weight - w/o fuel - lb (kg): | 10499 (4761) |
| Shipping Weight - w/o fuel - lb (kg): | 8716 (3954) |
| Tire size - in: | ST235/80-R15 |
| Track Width - in (mm): | 68.2 (1732) |
| Width - in (mm): | 82.6 (2098) |
| Width - in (mm): | 83 (2108) |
| Working Weight - w fuel - lb (kg): | 10699 (4853) |
| Working Weight - w fuel - lb (kg): | 11382 (5162) |
Features

Features

Operation is made easy and efficient with the Doosan ViewPort control panel, which provides more detail and preloaded resources than any other control panel in the market. An intuitive joystick control provides access to 15 operational parameters, an easy access to relevant manuals, machine maintenance schedule, and spare parts information. A Wi-Fi interface allows operators to access real-time data on laptops, tablets, or smartphones.

Available as an option is the patented IQ System® for cleaner air. Models with the IQ System feature an onboard aftercooler with 20 degrees approach, coalescing dual filtration system and an exclusive, zero-discharge condensate removal system - all of which work together to protect compressors from contaminants to increase compressor productivity.

The HP915's newly designed enclosure has resulted in the most accessible air compressor ever created, assuring that maintenance is completed safely and efficiently. Safe and simple access to all service components - from coolers to filters - is made possible by panels located on all sides of the machine. Located on each side of the HP915 are two access doors, a pneumatic lift door and a drop-down door, which provide total service access to the interior compartment. A rear panel door on the canopy simplifies heat exchanger cleaning, while rear steps provide easy access to the radiator for engine coolant refills. A double-door design at the front of the air compressor protects and provides easy access to the operator control system. Efficient maintenance on the HP195 air compressor is further improved by the models' central drain system. Centralized tubing and valve system drains allow operators to easily drain fluids from the radiator and oil and fuel tanks to a central location, without having to crawl under the machine. A ladder at the front of the machine provides access to the enclosure roof for exterior maintenance needs.

 

The HP915WCU is more compact than previous models, having a 12% reduction in length- totaling 226 inches. With a smaller footprint, the HP915 air compressor not only creates more space on the rental yard and jobsite, but also is also easy to transport and maneuver. Built to excel in rugged conditions, the air compressor includes a heavy-gauge steel enclosure, heavy-duty tandem-axle running gear for easy towing, and construction-grade pedestal jack stand.

Specifications

Specifications

| | |
| --- | --- |
| Air Discharge outlet Quantity: | 1 |
| Air Discharge outlet size - in (mm): | 2-inch NPT (50.8) |
| Bhp @ rated speed (kW): | 305 (227.5) |
| Displacement - cu in (L): | 543 (8.9) |
| Electrical - Voltage/Battery Qty: | 24/(2) 4D, 1000 CCA |
| Emissions Tier Level: | Tier 4 Final (T4F) |
| Free-Air Delivery - cfm (m³/min): | 915 (25.9) |
| Fuel Tank Capacity - gal (L): | 128 (485) |
| Height - in (mm): | 97.9 (2482) |
| Height - in (mm): | 91.4 (2322) |
| Hours of operation @ Full Load: | 8,5 |
| Idle speed - rpm: | 1200 |
| Length - in (mm): | 171 (4343) |
| Length - in (mm): | 226.6 (5748) |
| Make/model: | Cummins/QSL9 |
| Number of Cylinders: | 6 |
| Pressure range - psig (bar): | 80 - 175 (5.5 - 12.1) |
| Rated operating Pressure - psig (bar): | 150 (10.3) |
| Rated speed - rpm: | 1800 |
| Shipping Weight - w/o fuel - lb (kg): | 10499 (4761) |
| Shipping Weight - w/o fuel - lb (kg): | 8716 (3954) |
| Tire size - in: | ST235/80-R15 |
| Track Width - in (mm): | 68.2 (1732) |
| Width - in (mm): | 82.6 (2098) |
| Width - in (mm): | 83 (2108) |
| Working Weight - w fuel - lb (kg): | 10699 (4853) |
| Working Weight - w fuel - lb (kg): | 11382 (5162) |
Other Air Compressor Models