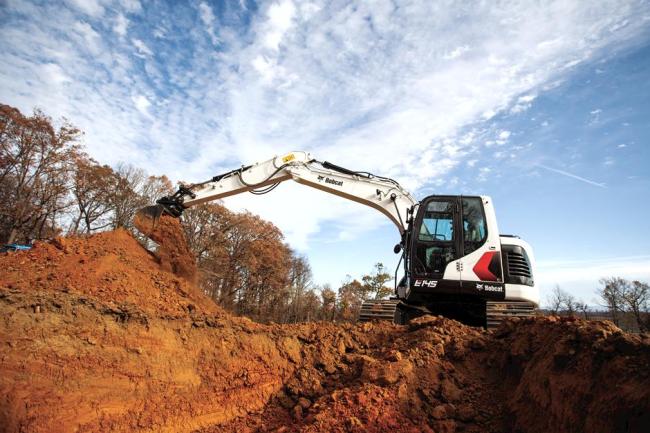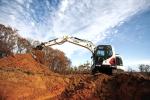 Bobcat Equipment

E145 Excavator
Excavators
The E145 large excavator offers leading lift capacity, four power modes and fast cycle times, plus a variety of comfort features, including generous floor space, a pressurized cab with sound-isolating seal, heated seat and automotive-style heat and air conditioning. This machine is easy to service with wide-open access panels, a hinged belly pan and centralized grease banks to make essential daily maintenance quick and easy. Side and rearview cameras are standard on the E145 excavator.

Features
The LCD allows operators to configure 10 different attachment presets: five for one-way hydraulic flow and five more for two-way flow. Each preset can be used to optimize performance or match specific operational requirements of the attachment by limiting maximum pressure and setting the minimum or maximum flow rate. Password protection functionality can protect from the possibility of using the wrong preset or help novice operators and rental users with limited hydraulic system knowledge.

Get the job done quickly and efficiently, thanks to class-leading hydraulics that deliver powerful arm and bucket forces, more slew torque, leading lift capacity and fast cycle times.

For improved digging stability and leveling ability on uneven surfaces, and to allow fast, easy backfilling, you can equip the E145 large excavator with an optional dozer blade.

Bobcat 14-16T class-size excavators are designed to keep operators productive and comfortable even when big projects keep them on the job longer. Operator comfort is a key priority for Bobcat machines, and the 14-16T size-class excavators offer roomy cabs, adjustable seats and quiet operation.

The turbocharged engine provides consistently high torque levels, regardless of the elevation where you're working.

Get increased ground clearance and maneuverability on softer ground with the X-frame undercarriage. It has sloped surfaces that shed debris to prevent material buildup and reduce the time you spend cleaning the undercarriage.

Pump Torque Control prevents engine overload by matching the hydraulic demand with available engine horsepower.

The hydraulic oil cooler's variable speed cooling fan adjusts its speed as required by the demands on your excavator. This maintains optimal temperature in severe working conditions while reducing noise and increasing efficiency in lighter duty situations.

An easy-to-read LCD panel displays critical machine data, errors, warnings, rear and side view camera display. It also has an automatic night view function for optimal visibility in low light conditions.

You can track machine performance in real time and access historical machine alerts via the bright, easy-to-read LCD monitor.

When turning, pushing and maneuvering, the auto shift feature improves machine responsiveness and controllability by automatically shifting to low range when the load is high and shifting back to high range when the load diminishes. All you need to do is control speed and direction.

This 14-16T size-class excavator includes wide-open access covers that provide plenty of room to reach the top side of the engine, while a hinged belly pan allows access from the bottom. Solid steel side covers give you quick access to regular daily maintenance items for easy upkeep and more uptime.

Variable Speed Control improves fuel efficiency up to 5% by automatically reducing engine rpm during low workload requirements, such as the slew portion of a dig cycle.

A reduced tail swing allows greater and enhanced maneuverability in tight jobsites, enabling operators to confidently use the large excavator around obstacles or against walls.

Centralized grease banks are located on the base of the boom to make essential daily maintenance of large excavators quick and easy.

A roller switch on the right joystick allows operators to control and vary the speed at which a two-way hydraulic attachment functions, making it easy to open or close a hydraulic clamp.

Watch your surroundings and gain greater peace of mind via the convenient standard rear and side view cameras.

Four selectable power modes provide you with adaptable performance so you can tackle the job as you see fit. Whether you need all-out power or efficient fuel consumption, choose from Power+ mode, Power mode, Standard power mode or Economy mode.

Bobcat large excavators include a premium heat and air conditioning system that enables impressive control over the cabin temperature. It functions similarly to many automotive systems. High-capacity heating and cooling vents enable fast, easy temperature adjustments for maximum comfort in extreme temperatures. Once you reach the desired temperature, the system senses and automatically adjusts to maintain a constant temperature setting. If you shut down the machine, it returns to the previously set temperature when you restart.

The large excavator's engine meets all of the latest Tier 4 emissions requirements.

Match performance to task, choosing from four work modes that tailor the large excavator's power for digging or lifting. Work modes include Digging, Lifting, Breaker and Shear.

Save fuel and reduce noise to improve operator comfort and jobsite communications. Auto idle, a standard feature, idles the engine automatically when excavator movement stops for several seconds. When you move the joystick controls or initiate travel, the engine automatically returns to the previously set throttle position.

The automatic belt tensioner maintains constant tension on the engine accessory belt, compensating for regular wear and maintaining the performance you demand.

Your productivity depends on your excavator, but equipment is a common target for vandalism, misuse and even theft. Bobcat 14-16T size-class excavators include a variety of features that protect your investment.

The large cabin provides superior visibility to the front and sides. An overhead window gives you great visibility above the machine. Narrow corner pillars and small window joints – as well as a removable lower-front window – provide a view that allows you to see the work comfortably, without obstruction or strain. Even the window wiper is mounted on the pillar instead of on the glass surface. Front and top sun shades provide additional protection from eye strain while enhancing comfort.

Bobcat large excavators are designed to keep you working longer with standard features that improve uptime, including heavy-duty materials plus components that are protected from damage or wear and that require minimal or no maintenance.
Specifications
| | |
| --- | --- |
| Arm Digging Force : | 13,228 lbf |
| Auxiliary Pressure : | 4,694 psi |
| Auxiliary Std Flow : | 29 gal/min |
| Bucket Digging Force : | 21,471 lbf |
| Emissions Tier (EPA) : | Tier 4 |
| Engine Fuel : | Diesel |
| Fuel Tank : | 55.5 gal |
| Height : | 123 in |
| Height with Operator Cab : | 111 in |
| Horsepower : | 115 hp |
| Length: | 288 in |
| Lift Radius : | 341 in |
| Max Dump Height : | 23.2 ft |
| Maximum Dig Depth : | 19.6 ft |
| Maximum Reach at Ground Level : | 27.9 ft |
| Operating Weight : | 34,987 lb |
| Travel Speed - High : | 2.9 mph |
| Travel Speed - Low : | 1.7 mph |
| Weight Class : | 16 t |
| Width: | 101 in |
Features

Features

The LCD allows operators to configure 10 different attachment presets: five for one-way hydraulic flow and five more for two-way flow. Each preset can be used to optimize performance or match specific operational requirements of the attachment by limiting maximum pressure and setting the minimum or maximum flow rate. Password protection functionality can protect from the possibility of using the wrong preset or help novice operators and rental users with limited hydraulic system knowledge.

Get the job done quickly and efficiently, thanks to class-leading hydraulics that deliver powerful arm and bucket forces, more slew torque, leading lift capacity and fast cycle times.

For improved digging stability and leveling ability on uneven surfaces, and to allow fast, easy backfilling, you can equip the E145 large excavator with an optional dozer blade.

Bobcat 14-16T class-size excavators are designed to keep operators productive and comfortable even when big projects keep them on the job longer. Operator comfort is a key priority for Bobcat machines, and the 14-16T size-class excavators offer roomy cabs, adjustable seats and quiet operation.

The turbocharged engine provides consistently high torque levels, regardless of the elevation where you're working.

Get increased ground clearance and maneuverability on softer ground with the X-frame undercarriage. It has sloped surfaces that shed debris to prevent material buildup and reduce the time you spend cleaning the undercarriage.

Pump Torque Control prevents engine overload by matching the hydraulic demand with available engine horsepower.

The hydraulic oil cooler's variable speed cooling fan adjusts its speed as required by the demands on your excavator. This maintains optimal temperature in severe working conditions while reducing noise and increasing efficiency in lighter duty situations.

An easy-to-read LCD panel displays critical machine data, errors, warnings, rear and side view camera display. It also has an automatic night view function for optimal visibility in low light conditions.

You can track machine performance in real time and access historical machine alerts via the bright, easy-to-read LCD monitor.

When turning, pushing and maneuvering, the auto shift feature improves machine responsiveness and controllability by automatically shifting to low range when the load is high and shifting back to high range when the load diminishes. All you need to do is control speed and direction.

This 14-16T size-class excavator includes wide-open access covers that provide plenty of room to reach the top side of the engine, while a hinged belly pan allows access from the bottom. Solid steel side covers give you quick access to regular daily maintenance items for easy upkeep and more uptime.

Variable Speed Control improves fuel efficiency up to 5% by automatically reducing engine rpm during low workload requirements, such as the slew portion of a dig cycle.

A reduced tail swing allows greater and enhanced maneuverability in tight jobsites, enabling operators to confidently use the large excavator around obstacles or against walls.

Centralized grease banks are located on the base of the boom to make essential daily maintenance of large excavators quick and easy.

A roller switch on the right joystick allows operators to control and vary the speed at which a two-way hydraulic attachment functions, making it easy to open or close a hydraulic clamp.

Watch your surroundings and gain greater peace of mind via the convenient standard rear and side view cameras.

Four selectable power modes provide you with adaptable performance so you can tackle the job as you see fit. Whether you need all-out power or efficient fuel consumption, choose from Power+ mode, Power mode, Standard power mode or Economy mode.

Bobcat large excavators include a premium heat and air conditioning system that enables impressive control over the cabin temperature. It functions similarly to many automotive systems. High-capacity heating and cooling vents enable fast, easy temperature adjustments for maximum comfort in extreme temperatures. Once you reach the desired temperature, the system senses and automatically adjusts to maintain a constant temperature setting. If you shut down the machine, it returns to the previously set temperature when you restart.

The large excavator's engine meets all of the latest Tier 4 emissions requirements.

Match performance to task, choosing from four work modes that tailor the large excavator's power for digging or lifting. Work modes include Digging, Lifting, Breaker and Shear.

Save fuel and reduce noise to improve operator comfort and jobsite communications. Auto idle, a standard feature, idles the engine automatically when excavator movement stops for several seconds. When you move the joystick controls or initiate travel, the engine automatically returns to the previously set throttle position.

The automatic belt tensioner maintains constant tension on the engine accessory belt, compensating for regular wear and maintaining the performance you demand.

Your productivity depends on your excavator, but equipment is a common target for vandalism, misuse and even theft. Bobcat 14-16T size-class excavators include a variety of features that protect your investment.

The large cabin provides superior visibility to the front and sides. An overhead window gives you great visibility above the machine. Narrow corner pillars and small window joints – as well as a removable lower-front window – provide a view that allows you to see the work comfortably, without obstruction or strain. Even the window wiper is mounted on the pillar instead of on the glass surface. Front and top sun shades provide additional protection from eye strain while enhancing comfort.

Bobcat large excavators are designed to keep you working longer with standard features that improve uptime, including heavy-duty materials plus components that are protected from damage or wear and that require minimal or no maintenance.

Specifications

Specifications

| | |
| --- | --- |
| Arm Digging Force : | 13,228 lbf |
| Auxiliary Pressure : | 4,694 psi |
| Auxiliary Std Flow : | 29 gal/min |
| Bucket Digging Force : | 21,471 lbf |
| Emissions Tier (EPA) : | Tier 4 |
| Engine Fuel : | Diesel |
| Fuel Tank : | 55.5 gal |
| Height : | 123 in |
| Height with Operator Cab : | 111 in |
| Horsepower : | 115 hp |
| Length: | 288 in |
| Lift Radius : | 341 in |
| Max Dump Height : | 23.2 ft |
| Maximum Dig Depth : | 19.6 ft |
| Maximum Reach at Ground Level : | 27.9 ft |
| Operating Weight : | 34,987 lb |
| Travel Speed - High : | 2.9 mph |
| Travel Speed - Low : | 1.7 mph |
| Weight Class : | 16 t |
| Width: | 101 in |